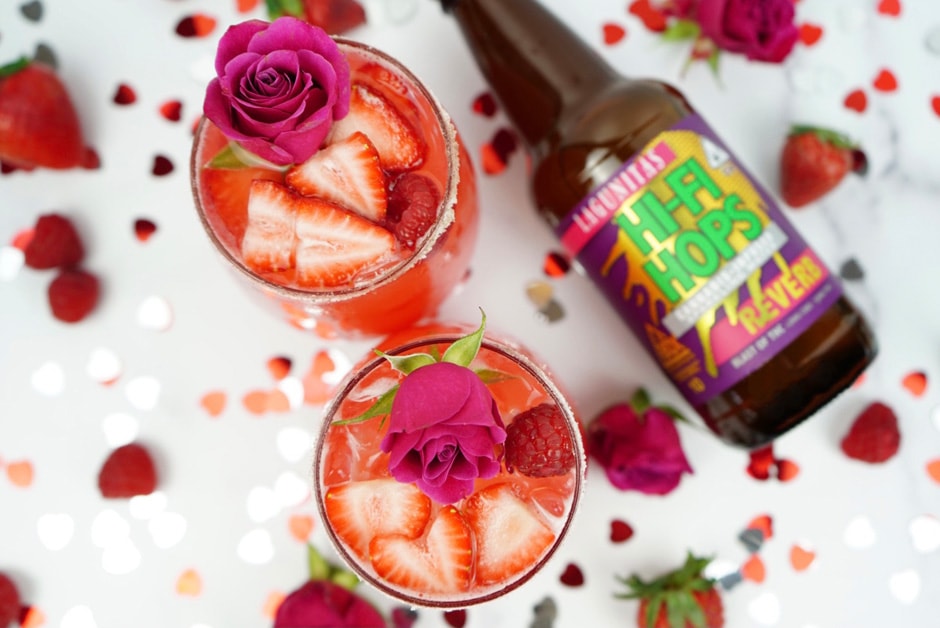 Enchanting with its bright pink hues, a Red Berry Cardamom 'Love Potion' Hi-Fi Hops Spritz is guaranteed to spice up your Valentine's Day! This luscious and seductive recipe will dazzle the senses, combining a blend of fresh red fruits and cardamom for your drinking pleasure. With a burst of fresh-squeezed lemon juice, this refreshing spirit-free mixed drink is a perfect alternative to alcohol and can easily be combined with Hi-Fi Hops Reverb Cannabis-Infused Hoppy Sparkling Water from ABX and Lagunitas for an invigorating infused beverage experience.

If you're new to Hi-Fi Hops Reverb, this tasty bubbly drink contains 10 milligrams of THC, providing a stimulating and euphoric high. Because of its delicious flavor, it's a perfect addition to a number of drink recipes including this celebratory 'Love Potion' spritz. I think you'll agree the flavors combine effortlessly on the palate forming a perfect combination of spicy, sweet, and tangy notes to fall in love with. For an extra special touch, cut the strawberry garnishes into a heart shape, then add to the drink and enjoy!
Ready to make this tasty elixir for Valentine's Day? Keep reading for the recipe, and be sure to click here to find Hi-Fi Hops Reverb in a dispensary near you. Cheers, and happy Valentine's Day!
Red Berry Cardamom 'Love Potion' Hi-Fi Hops Spritz
Yield: 1 serving

Target Dose: 5 mg THC (using ½ bottle of Hi-Fi Hops 'Reverb' Hoppy Sparkling Water. Use the second half of the bottle to create a second round for you or a loved one)

Equipment:
Saucepan
Shallow saucer
Stemless wine glass
Shaker tin
Muddler
Jigger
Hawthorne strainer
Fine-mesh strainer
Bar spoon
Ingredients:
Cardamom Simple Syrup
1 cup water
1 cup granulated sugar
3 heaping tablespoons cracked cardamom pods
Cardamom Sugar Rim
1 tablespoon granulated sugar
¼ teaspoon ground cardamom
Lemon wedge
Strawberry Cardamom 'Love Potion' Hi-Fi Spritz
6 small strawberries, cut in half
½ cup raspberries
1 ½ ounces fresh-squeezed lemon juice
1 ounce cardamom simple syrup
Ice
Slices of strawberry, raspberries, and pink edible flowers, for garnish
Directions:
Begin by preparing the cardamom simple syrup. Bring one cup of water to a boil in a saucepan of your choice. Add the sugar, then stir until it dissolves completely. Add the cracked cardamom pods, and continue to heat on low for 10 minutes. Remove from heat, cover the saucepan, then leave the cardamom pods in the simple syrup to infuse for about 45 minutes, or to taste. Allow the simple syrup to cool completely. Using a fine-mesh strainer, separate the liquid from the solids over a Mason jar. Discard the solids, then store the cardamom simple syrup in the refrigerator to chill.

Next, create the cardamom sugared rim. Combine the sugar and ground cardamom in a shallow saucer. Mix well using a spoon. Rim a stemless wine glass with a lemon wedge and then dip the top of the glass into the cardamom sugar blend to create a sugared rim. Set the glass aside as you prepare the drink.

In a shaker tin, muddle the strawberries and raspberries until they release their juices. Add the lemon juice, cardamom simple syrup, and ice, then shake for 15 seconds or until very cold. Carefully fine strain the liquid into the prepared stemless wine glass filled with fresh ice to remove the seeds and solids. Top with Hi-Fi Hops Reverb Cannabis-Infused Hoppy Sparkling Water, then gently stir to combine. Garnish with slices of strawberries, raspberries, and pink edible flowers to celebrate Valentine's Day.‍